Hello Guys, In This post I am going to discuss for whatsapp. There is Great News For You That is The Dark Mode Feature of whatsapp. If you are waiting for This new exciting feature so then this dark mode feature has come.
Also Read:-
whatsapp bussiness App For iOS- Get Know Features
You have seen that the other social media apps like facebook's own platform Instagram has already have the feature of dark mode. It saves the battery life of your smartphone and also protect your eyes for brighter lights of the smartphone screen.
So, you should use whatsapp dark mode in your smartphone in order to save your battery life and your eyes.
Also Read:-
Whatsapp New Feature:- Vacation mode feature to hide archieved chats
But One thing remember when you use this dark mode. If your smatphone has an amoled display then that's fine. This will save your smartphone power consumption by using dark mode of whatsapp.
If your smartphone is LCD Display then may be save battery. But Overall this will save your eyes from brighter lights In Smartphone.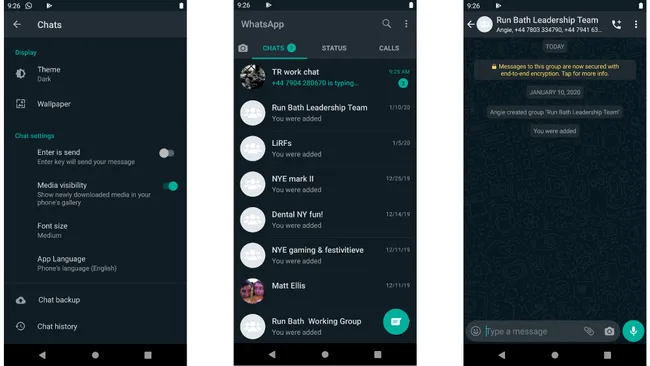 How To Enable Whatsapp Dark Mode In Android or iOS
To Enable whatsapp dark mode feature then firstly check your playstore by searching "whatsapp" and if has an update of enable dark mode then simply tap update. When the update has done, then tap on whatsapp and In the right side there is three dot options.
Then Go To Settings
Tap To chats
Tap To Themes
Then You have two options of
Light or Dark
tap on Dark
And Now you are ready to use it. And if you still not get an update of dark mode, then Go To playstore and Type "whatsapp" and tap on beta program of dark mode. And this will enable dark mode of your whatsapp in few hours and this will enable dark mode.
Also Read:-
How To Know If Someone Has Blocked You On Whatsapp
So, these are the steps you can use to enable whatsapp dark mode easily and what did you think about this new feature and have you tried it or not. comment down below your answer and if you have any queries then you can comment it.
Also Read:-
How to Download Whatsapp Message Without Taking Screenshot
For More Information About This Smartphone. Get Latest Gadgets And Tips & Tricks And Reviews, Subscribe To Our News Letter And Also Follow Easy TecTricks On Social Media Icons And Subscribe TecTricks To Youtube Channel. You Can Follow Me On Facebook And Instagram For More Updates. Stay Tunned Us For My Blog.